Alone Movie Review Starring Bipasha Basu, Karan Singh Grover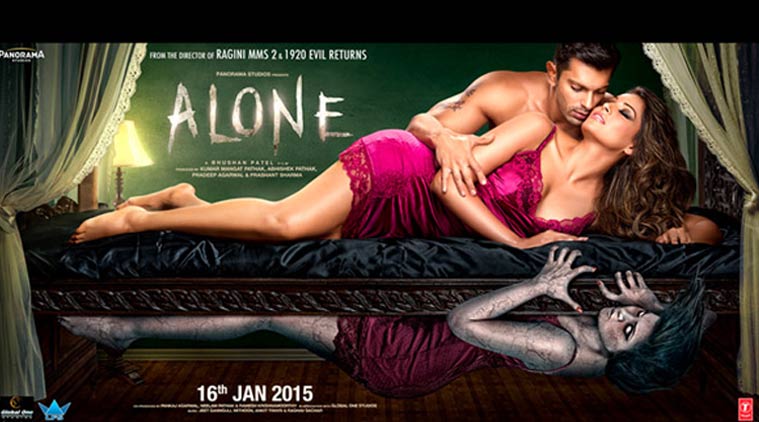 Cast:
Bipasha Basu, Karan Singh Grover, Zakir Hussain
Duration:
2 hours 13 minutes
Story: Sanjana is madly in love with Kabir. All she wants is his uninterrupted time. Trouble is, her conjoined twin Anjana also desires exactly the same.
Review: So what happens when conjoined twins Anjana and Sanjana (Bipasha Basu) make the same man, Kabir (Karan Singh Grover) the object of their desire? No prizes for guessing. The sisters end up despising one another and can hardly wait to go their separate ways (pun intended).
Trivia/Goofs about "Alone" movie
1 Alone is an official remake of a 2007 Thai film of the same name.
2 While Kerala is deemed apt for romantic films, the makers decided to shoot their horror film with a love triangle in the state famous for its backwaters.
3 This is the sixth time Bipasha's venturing into the horror genre, though she has reportedly confessed being scared of watching such films.
4 Director Bhushan Patel too scores a hat trick with the genre, after his first two were horror films too.
5 Considering the number of scary films Bipasha has done, Bhushan nicknamed her Queen of Horror.
6 During the shooting of a scene in which Sanjana sees Anjana, reportedly Bipasha actually got scared and cried on the set.
7 Bipasha and Karan have a number of sizzling intimate scenes in the film. Though not acquainted before signing the film, the two hit it off from day one. And rumouredly got very close during the making and even brought in 2015 together in Goa.
8 Karan's physique seen in the film is a result of exercising six-seven days a week. Besides, his daily meals consists of chicken, fish, fibrous green vegetables, egg whites and protein shake.
9 Special prosthetics were created for Bipasha's dual roles. While shooting the conjoined parts, she'd spend most of the time attached to her body double. After doing an Anjana scene, she'd change and do Sanjana's scene.
10 Generally fond of high-heels, Bipasha took to wearing flat footwear in the film and during promotions so as to not look taller than her hero, Karan.
11 Alone is a horror love story that revolves around a pair of conjoined twins. Director Bhushan Patel wanted the conjunction to look as realistic as possible. A prosthetic layer was created that joined the two sisters at the hip.
12 Composite merging process was used to give the twins a real look. Live footage from the set and computer generated images were clubbed to give it an authentic look.
13 The entire process of merging took almost 7 months.
14 During the shooting of Alone, Bipasha Basu and Karan Singh Grover were rumoured to be dating.
15 The trailer of Bipasha Basu and Karan Singh Grover starrer Alone received more than 6 million views on Youtube.