Kerala HC sends notice to BCCI to lift Sreesanth's lifetime ban
The Kerala High Court on Friday sent a notice to the Board of Cricket Control for India (BCCI) to lift Sreesanth's lifetime ban imposed in 2013.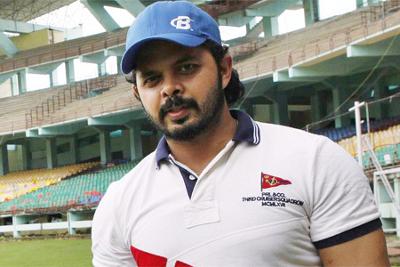 Sreesanth had approached the Kerala HC challenging the ban imposed on him and requesting authorization by BCCI to play for a Scottish club in April. 
Sreesanth was charged of match-fixing during the 2013 season of Indian Premier League by the BCCI disciplinary committee headed by the present Union Finance Minister, Arun Jaitley. All the 36 accused, including Sreesanth, Ankeet Chavan and Ajit Chandila were acquitted by Patiala High Court in July 2015. The BCCI, however, didn't alter its disciplinary action even after the verdict and denied a No Objection certificate to the 34-year-old cricketer.
On account of the life ban, Sreesanth cannot play even league cricket nor get access even for practice to any of the cricket grounds where the BCCI or the State Cricket Associations have a stake.
Sreesanth, who hails from Kerala, had written to former Comptroller and Auditor General Vinod Rai last month, who heads the Supreme Court-appointed Committee of Administrators (CoA) of the BCCI. He alleged that "the entire prosecution case framed out by the Delhi Police Special Cell" against him was based on a "cooked-up story created according to their aspirations and imaginations".
Sreesanth was invited by Glenrothes Cricket Club, Fife Scotland, for representing Glenroth Team in the Premier League in Scotland.