Virat Kohli Signs Rs 100-Crore Deal With Puma
Indian cricket captain Virat Kohli has become the first Indian sportsperson to strike a Rs 100-Crore endorsement deal with a single brand. Kohli has signed up with Puma for  an eight-year deal worth Rs 110 Crore.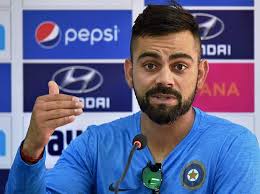 The deal will most likely go on to cover Kohli's remaining career with the Indian team. A bulk of the endorsement deal, estimated between Rs 12 crore to 14 crore annually, is locked up in fixed payout.
With this Kohli is all set to join the likes of Usain Bolt, Asafa Powell and Thierry Henry as the global ambassador for the brand.
"It's a privilege to be part of a great list of athletes that Puma has. Not just today's icons like Usain Bolt but also the brand's rich history with Pele, Maradona, Thierry Henry and others. Both Puma and I are committed to a long-term partnership. I am impressed by the way Puma has gained popularity and market leadership in India in a short period of time" the Times of India quoted him as saying.
Along with promoting the brand, Kohli will also work with the Germany-based sporting giant to launch a signature line of sports lifestyle products with a special logo and brand identity.
The first commercial of Puma featuring Virat Kohli is expected to air on Monday and the Indian batsman is expected to work in markets such as the UK, Australia, and South Africa and places wherever cricket is relevant.
Legendary cricketer Sachin Tendulkar and former Indian captain Mahendra Singh Dhoni have been a part of Rs 100-crore club through multi-year contracts with sports and talent management agencies but they have never been signed by a single brand for such a big amount.